Template
:
Akuzon Specials
From The Obey Me Wiki
Specials
[
edit
]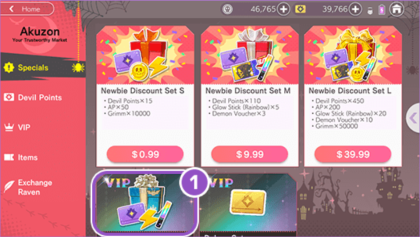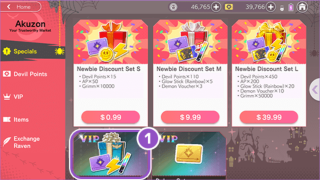 Items in the Specials tab can be bought at a discounted price. Many of these sales are limited-time and limited-quantity, so make sure not to miss out on these offers while time and supplies last!
1. VIP-exclusive item sets


Standard and VIP sale sets are listed below. For information on all special sales, see the Special Sales page.

Sale Sets
[
edit
]
Standard Sets
[
edit
]
Only 1 of each set can be bought per person.
Non-VIP Only Sale Sets
[
edit
]
Devildom Survival Kit L
Sale Price = 9.99 USD
(Full Price = 15.37 USD)
Items
Devil Point x110
Glow Stick (Rainbow) x3
Demon Voucher x1
VIP Only Sale Sets
[
edit
]
See VIP Sale Sets