Template
:
Akuzon VIP
From The Obey Me Wiki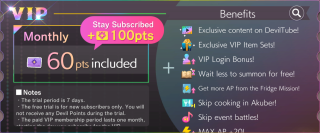 Akuzon offers a monthly VIP subscription service, which includes a number of benefits.
Features Include:
When your VIP membership period has ended, the waiting time will reset. Because the waiting time resets, you may have to wait longer since the last time you summoned for free.
Get more AP from the Fridge Mission!

The AP reward from the Fridge Mission — which can be completed twice a day — increases from AP x30 to AP x60.

Skip cooking in Akuber!

You can skip any recipes you've already completed without using Devil Points.

You will be able to skip Pop Quiz event battles!
Your maximum AP will increase by 20!
2 Bonus slots in :D Jobs.
Increase in the drop rate for items earned in :D Jobs.
Earn double the Player EXP from dance battles!
60 Devil Points rewarded each month.

For every month you stay subscribed, you are rewarded an extra 100 Devil Points.
VIP membership is available as a free 7-day trial once per user, then you are charged $9.99 (USD) per month.
VIP Sale Sets
[
edit
]
One of each of these sale sets are available for purchase per month. Their availability resets on the date that your VIP subscription renews.
Deluxe Set
Sale Price = $4.99
(Full Price = $17.71)
Items
Devil Point x50
Grimm x 10,000
AP x 100
Demon Voucher x3
D-Energy x4
Older Sale Variations
[
edit
]
These were the original VIP sale sets up until 8/24/2022.
Deluxe Set
Sale Price = $4.99
(Full Price = $17.71)
Items
Devil Point x50
Grimm x 20,000
AP x 50
Glow Stick (Rainbow) x3
Demon Voucher x3