An A-Mazing Adventure Pint-Sized Challenge
From The Obey Me Wiki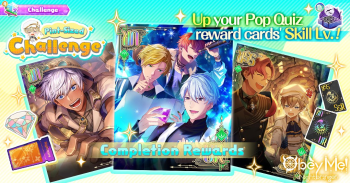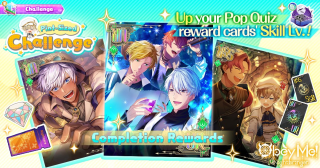 "Clear missions to reap the rewards!

Complete tasks from the Pint-Sized Challenge to receive some awesome rewards that Luke has prepared for you! Work with Luke to level up the skills of your Pop Quiz reward cards!"
An A-Mazing Adventure Pint-Sized Challenge was a limited-time event that took place in September of 2023 in conjunction with the An A-Mazing Adventure (NB) Pop Quiz.
This event will not be re-released.

| Task | # of actions | Reward(s) |
| --- | --- | --- |
| Clear 1-18 of Maze with an S rank | 1 | Grimm x2,500 |
| Clear 1-A of Maze with an S rank | 1 | Gems (Wrath) x20 |
| Clear 1-B of Maze with an S rank | 1 | Watch (Wrath) x5 |
| Clear 1-C of Maze with an S rank | 1 | Mug (Wrath) x5 |
| Clear 1-D of Maze with an S rank | 1 | Sports Drink (Wrath) x5 |
| Clear 1-E of Maze with an S rank | 1 | Sunglasses (Wrath) x5 |
| Clear 1-F of Maze with an S rank | 1 | Flower Staff (Bud) x1 |
| Unlock Devil's Tree Spaces of Deserted Island Escape (NB) | 15 | Azuki-Tan Wallet x1 |
| Level up the card Deserted Island Escape (NB) to level 30 | 29 | Magical Score x1 |
| Completion Reward | All tasks (9) | Deserted Island Escape (NB) x1 |
| Task | # of actions | Reward(s) |
| --- | --- | --- |
| Clear 2-16 of Maze with an S rank | 1 | Flower Staff (Blossom) x1 |
| Clear 2-18 of Maze with an S rank | 1 | Grimm x5,000 |
| Clear 2-20 of Maze with an S rank | 1 | Scissors (Wrath) x3 |
| Clear 1-A of Maze with a 100+ combo | 1 | Alarm Clocks (Wrath) x3 |
| Clear 1-B of Maze with a 100+ combo | 1 | AP x100 |
| Clear 1-D of Maze with a 120+ combo | 1 | SSR Joker x1 |
| Clear 1-3 of Maze with a full combo | 1 | UR Joker x1 |
| Unlock Devil's Tree Spaces of Maze Treasure Hunt (NB) | 25 | Azuki-Tan Wallet x1 |
| Level up the card Maze Treasure Hunt (NB) to level 50 | 49 | Karma Points x10 |
| Completion Reward | All tasks (9) | Maze Treasure Hunt (NB) x1 |
| Task | # of actions | Reward(s) |
| --- | --- | --- |
| Clear 2-22 of Maze with an S rank | 1 | Demon Voucher x1 |
| Clear 2-H of Maze with an S rank | 1 | Headphones (Wrath) x3 |
| Clear 2-I of Maze with an S rank | 1 | Rubber Duck (Wrath) x3 |
| Clear 2-J of Maze with an S rank | 1 | SSR Joker x1 |
| Clear 1-5 of Maze with a full combo | 1 | Karma Points x10 |
| Get 20 S ranks Maze | 20 | Grimm x10,000 |
| Get 31 S Ranks Maze | 31 | Devil Points x30 |
| Unlock Devil's Tree Spaces of Maze Mining Tour (NB) | 25 | UR Joker x1 |
| Level up the card Maze Mining Tour (NB) to level 50 | 49 | Flower Staff (Blossom) x1 |
| Completion Reward | All tasks (9) | Maze Mining Tour (NB) x1 |