Official Obey Me! Manga
From The Obey Me Wiki


Obey Me! Misadventures
[
edit
]
Author: Yukina Okamoto
Story: NTT Solmare
Publisher: Solmare Publishing
Summary: The Obey Me! one-page comics that we released on Twitter are now being released together as "Obey Me! Misadventures"! Separate from the manga series releasing on Manga Plaza, these one-page comics take a look at the funny daily misadventures of the seven brothers.
English Links
[
edit
]
Obey Me! The Comic
[
edit
]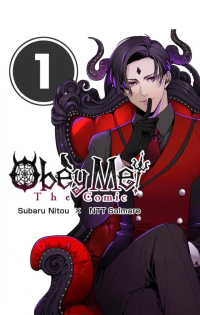 Author: Subaru Nitou
Story: NTT Solmare
Publisher: MAG Garden
Summary: There is only 1 rule you have to remember... "One master to rule them all!" - It's the long-awaited comic for the outstandingly popular demon-training mobile game! When they're selected to be an exchange student at RAD, a school for demons, our protagonist finds waiting for them... 7 demon brothers and a student life at RAD that's shaping up to be a wild ride...!
English Link
[
edit
]