The Scroll of Thirst Pint-Sized Challenge
From The Obey Me Wiki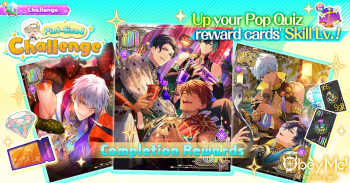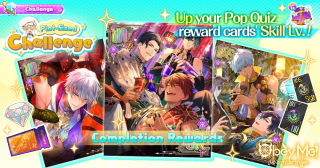 "Clear missions to reap the rewards!

Complete tasks from the Pint-Sized Challenge to receive some awesome rewards that Luke has prepared for you! Work with Luke to level up the skills of your Pop Quiz reward cards!"
The Scroll of Thirst Pint-Sized Challenge was a limited-time event that took place in September of 2023 in conjunction with the The Scroll of Thirst (NB) Pop Quiz.
This event will not be re-released.

Rewards
[
edit
]
Challenge 1
[
edit
]
| Task | # of actions | Reward(s) |
| --- | --- | --- |
| Clear 1-18 of Scroll with an S rank | 1 | Grimm x2,500 |
| Clear 1-A of Scroll with an S rank | 1 | Gems (Sloth) x20 |
| Clear 1-B of Scroll with an S rank | 1 | Watch (Sloth) x5 |
| Clear 1-C of Scroll with an S rank | 1 | Mug (Sloth) x5 |
| Clear 1-D of Scroll with an S rank | 1 | Sports Drink (Sloth) x5 |
| Clear 1-E of Scroll with an S rank | 1 | Sunglasses (Sloth) x5 |
| Clear 1-F of Scroll with an S rank | 1 | Flower Staff (Bud) x1 |
| Unlock Devil's Tree Spaces of Our Quiet Place (NB) | 15 | Azuki-Tan Wallet x1 |
| Level up the card Our Quiet Place (NB) to level 30 | 29 | Magical Score x1 |
| Completion Reward | All tasks (9) | Our Quiet Place (NB) x1 |
Challenge 2
[
edit
]
Challenge 3
[
edit
]