Contacts
From The Obey Me Wiki



You can view the Cards that you have collected and check their status in Contacts. You can also sort and filter your cards as well as edit your teams in Contacts.

About Contacts
[
edit
]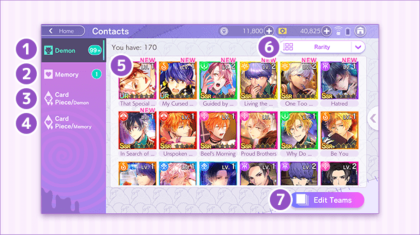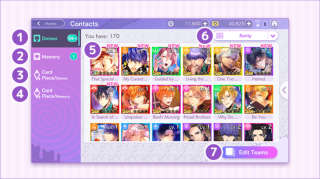 1. Demon
2. Memory
3. Card Piece/Demon
4. Card Piece/Memory
5. Cards
6. Filter/Sort
7. Edit Teams
Card Stats
[
edit
]
See the Cards Page.

Devil's Tree
[
edit
]
See the Devil's Tree Page.

Unlocking a Card's Maximum Level Cap
[
edit
]


When your card has reached its maximum level (for example: level 100 for UR cards), the Level Up button will be replaced by the Unlock MAX Lv. button. Each maximum level cap unlock will increase the card's level by 10.
Unlocking the maximum level cap of a card will require Gems, Daggers, and Grimm.
The unlocked maximum level cap of a card is dependent on its rarity.
The following are the current maximum levels as of May 20, 2021:
UR+/UR: 200
SSR: 160 (originally 120)